Home,
Contents,
Carries,
Rests & Sits,
Stands,
Simulations - Part 1,
Simulations - Part 2,
Simulations - Part 3,
Balances,
Climbs - Part 1,
Climbs - Part 2,
Jumps,
Rocks - Part 1,
Rocks - Part 2,
Slides,
Somersaults,
Swings,
Walks,
Roughhousing - Part 1,
Roughhousing - Part 2
17. SWINGS
Swings are probably the most exciting Family Plays in this work. They are the highlight of any Family Play session.

Unfortunately swings are very hard on the adult's back. The secret to not hurting your back is to do swings with small children. Do not attempt these swings with any child who weighs more than 35 pounds or who is over four years old. Do not do them if you have any problems with your back.

Always stretch before you start swinging and warm up first with some of the gentler plays in the other sections of the video. Do not swing a child for more than a few seconds, and never swing more than one or two children in a day. Favor the swings which require two adults; they are easier on the back.
---
LUMP
The child sits on the adult's foot and holds onto the adult's leg, as the adult slowly walks forward. This play is twice as much fun with a child on each foot.
---
SWINGING MONKEY
The adult holds the child under his or her arms and swings the child in an arc which goes from high up in front to down through the adult's legs.
---
HAMMOCK
The child swings back and forth like a hammock between two trees. Be sure to ask the child how high he or she wants to go.

Other children who are waiting their turn to swing can push the hammock back and forth. With heavier older children, or if you have a lot of kids to swing, use four adults, one at each arm and leg.
---
PORCH SWING
The two adults face each other and grasp hands. The child sits on the lower set of arms and leans back against the upper arms. Once the child is on, the adults gently swing the child back and forth.
---
TWO MAN SWING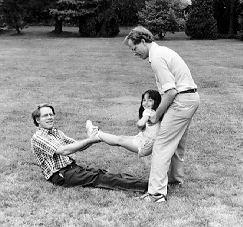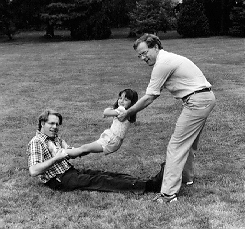 The child requests how high and how fast to swing.
---
CIRCLE SWING
The adult puts his or her arms under the child's armpits and clasps the hands behind the child's back. Or the adult can hold the child directly at the child's armpits. Do not swing the child by his or her hands.

To keep from getting dizzy, swing around a few times first in one direction, then in the opposite direction. Circle swing should be done outside.
---
TREE SWING
The child sits on the adult's hands and holds onto the adult's arms as the adult swings the child under the chest and between the legs.

Caution: Tree swing is extremely hard on the adult's back. Do tree swing only with two and three year old children.
---
Home,
Contents,
Carries,
Rests & Sits,
Stands,
Simulations - Part 1,
Simulations - Part 2,
Simulations - Part 3,
Balances,
Climbs - Part 1,
Climbs - Part 2,
Jumps,
Rocks - Part 1,
Rocks - Part 2,
Slides,
Somersaults,
Swings,
Walks,
Roughhousing - Part 1,
Roughhousing - Part 2