Home,
Contents,
Carries,
Rests & Sits,
Stands,
Simulations - Part 1,
Simulations - Part 2,
Simulations - Part 3,
Balances,
Climbs - Part 1,
Climbs - Part 2,
Jumps,
Rocks - Part 1,
Rocks - Part 2,
Slides,
Somersaults,
Swings,
Walks,
Roughhousing - Part 1,
Roughhousing - Part 2,
Order This Book
13. JUMPS
Jumps build strength and coordination. Since they require a certain amount of development, jumps seem to be more popular with older children, four years old and up.
PUDDLE
The adult walks behind the child, with his or her hands under the child's arms. When the child comes to a "puddle", the adult helps the child jump over the puddle. The wider the puddle, the more fun this gets.
---
TRAMPOLINE
A child can jump twice as high as normal when an adult lifts as he or she jumps.

Notice that the adult does not do all the work. The child jumps and the adult merely keeps the momentum going. For higher jumps, the child can bounce on a bed or rebounder. The adult stands on the floor beside the child.
---
JUMP ROPE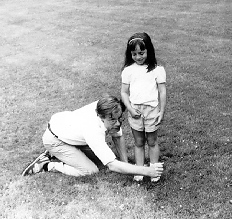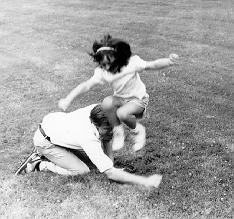 Here is a jump rope which young children can master. As the adult slowly swings his or her forearm back and forth, the child jumps over the adult's arm. For coordination the adult should say out loud "backward" and "forward" as the arm swings.
---
SCISSORS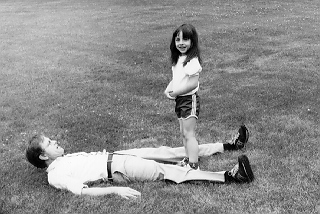 The adult's legs are the blades of the scissors. The child is the paper. As the blades slowly open and close, the child jumps into the open blades, or straddles the closed blades, so as not to get caught. This play develops trust.
---
Home,
Contents,
Carries,
Rests & Sits,
Stands,
Simulations - Part 1,
Simulations - Part 2,
Simulations - Part 3,
Balances,
Climbs - Part 1,
Climbs - Part 2,
Jumps,
Rocks - Part 1,
Rocks - Part 2,
Slides,
Somersaults,
Swings,
Walks,
Roughhousing - Part 1,
Roughhousing - Part 2,
Order This Book