Home,
Contents,
Carries,
Rests & Sits,
Stands,
Simulations - Part 1,
Simulations - Part 2,
Simulations - Part 3,
Balances,
Climbs - Part 1,
Climbs - Part 2,
Jumps,
Rocks - Part 1,
Rocks - Part 2,
Slides,
Somersaults,
Swings,
Walks,
Roughhousing - Part 1,
Roughhousing - Part 2
14A. ROCKS - Part 1
Children love to be rocked. This section offers rocks for children of all ages. Two year olds like the gentle rhythmic rocks at the beginning of the section. 3 and 4 year olds like the vertical rocks which follow. For older children there are the more adventurous rocks at the end of the section. Most of these rocks do not involve lifting, so the child's weight is not a crucial concern. In fact some of these rocks can be done with teenagers. However, rocks use the back. You should not attempt a rock if you have a weak back.
FRONT ROCK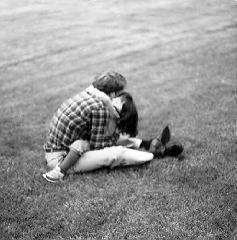 The adult gently rocks the child back and forth over his or her hips.
---
CRADLE
The adult balances the child on the thighs and then rocks the child gently from left to right, lifting alternately the child's head and legs. For greater effect, the adult can lean left and right as he or she rocks the child and sing the following tune:

"Rock a bye Baby On the tree top.
When the wind blows, The cradle will rock.
When the bough breaks, The cradle will fall;
And down will come Baby, Cradle and all."
---
MOP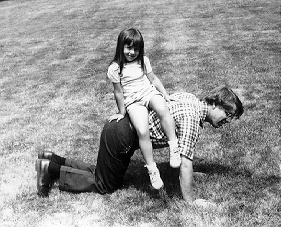 The adult is the mop, the child is the handle of the mop. The adult gently moves forward and backward over the floor, keeping his or her hands and knees in the same spot.
---
"M" ROCK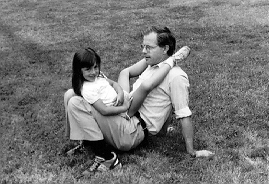 The child sits on the adult's lap. The adult lifts his or her buttocks just off the ground and slowly rocks back and forth, from head to toe.
---
SAILBOAT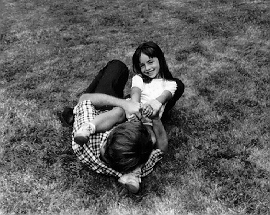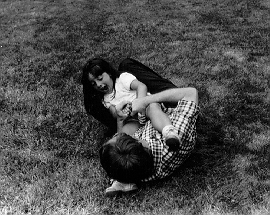 The adult leans right and left like a sailboat tacking in the wind.
---
Home,
Contents,
Carries,
Rests & Sits,
Stands,
Simulations - Part 1,
Simulations - Part 2,
Simulations - Part 3,
Balances,
Climbs - Part 1,
Climbs - Part 2,
Jumps,
Rocks - Part 1,
Rocks - Part 2,
Slides,
Somersaults,
Swings,
Walks,
Roughhousing - Part 1,
Roughhousing - Part 2