Home,
Contents,
Carries,
Rests & Sits,
Stands,
Simulations - Part 1,
Simulations - Part 2,
Simulations - Part 3,
Balances,
Climbs - Part 1,
Climbs - Part 2,
Jumps,
Rocks - Part 1,
Rocks - Part 2,
Slides,
Somersaults,
Swings,
Walks,
Roughhousing - Part 1,
Roughhousing - Part 2
10A. SIMULATIONS - Part 1
HOUSE
Simulations delight children because they encourage fantasy and stretch the imagination. Here is where creativity can flourish. Endless variations and extensions are possible. As you do the simulations, add sound effects and build the Family Play into a dramatic story. Drive somewhere in the "car". Walk the horsie back to the barn and feed him hay and water.

There is lots to do in your own house.
---
WINDOW
To open the window, raise the child.
---
UMBRELLA
As the adult opens the umbrella with his right hand, the child stretches out her arms.
---
HANDBAG
Pick the handbag up by its straps.
---
CRISSCROSS - A RIDDLE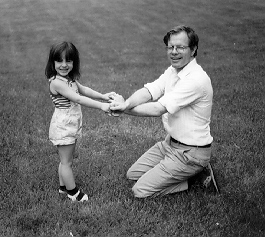 This one is a puzzle. If a person's hands are crossed, how must you grab them so that when they are straight, your hands are not crossed?
---
ALPHABET LETTERS
The Letter "T"
Family Play letters make a good way to learn the alphabet.
"The Letter H"
"The Letter A"
---
STATUE
The adult and child take turns being statue and sculptor. The statue must stay in whatever position the sculptor shapes him or her.
---
Home,
Contents,
Carries,
Rests & Sits,
Stands,
Simulations - Part 1,
Simulations - Part 2,
Simulations - Part 3,
Balances,
Climbs - Part 1,
Climbs - Part 2,
Jumps,
Rocks - Part 1,
Rocks - Part 2,
Slides,
Somersaults,
Swings,
Walks,
Roughhousing - Part 1,
Roughhousing - Part 2